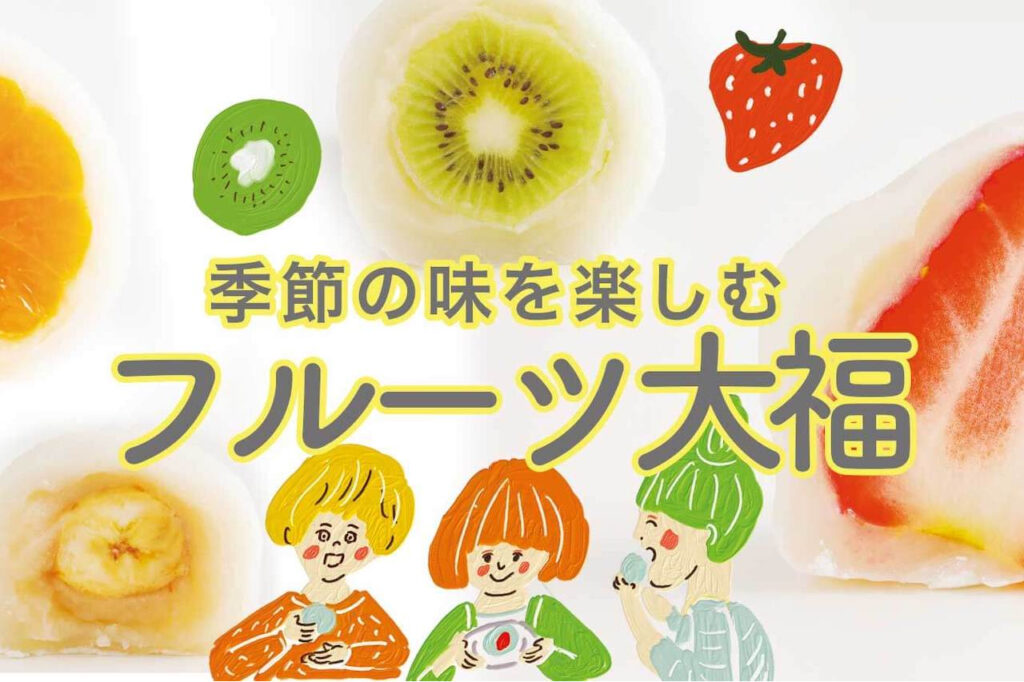 Enjoy the Flavor of the Season! 4 Fruit Daifuku from Kyoto and Shiga
Daifuku" is a fruit-shaped Daifuku with a perfect balance of mochi and white bean paste. Enjoy the taste of seasonal fruits.
1.Daifuku, a colorful seasonal treat [Karyo Itoken] / Fukakusa
One of the most popular products at Karyo Itoken, where you can enjoy everything from Japanese and Western confections to lunch, is the colorful Daifuku fruit cake. Fresh fruits from contracted farmers are wrapped in soft and chewy Gyuhi and homemade white bean paste. From winter to spring, Daifuku strawberry Daifuku and Daifuku mikan (mandarin orange) Daifuku, with their rich sweetness and sweet and sour taste matched with white bean paste, are available at the store. Daifuku with grapes, Daifuku with kiwi, Daifuku with pineapple, etc. will also be available seasonally, so don't miss them.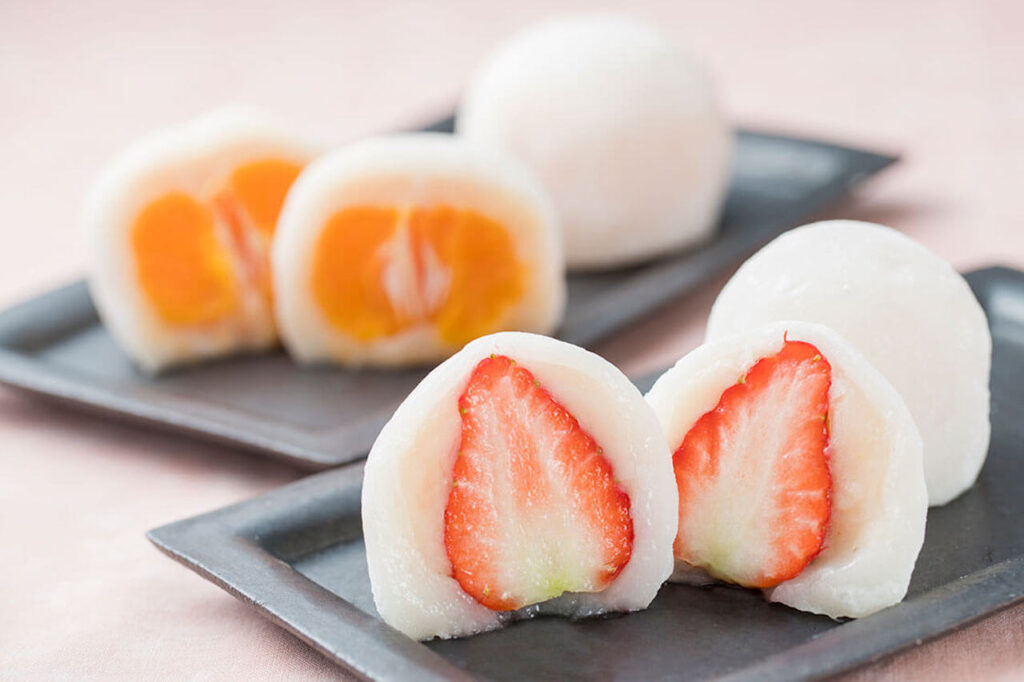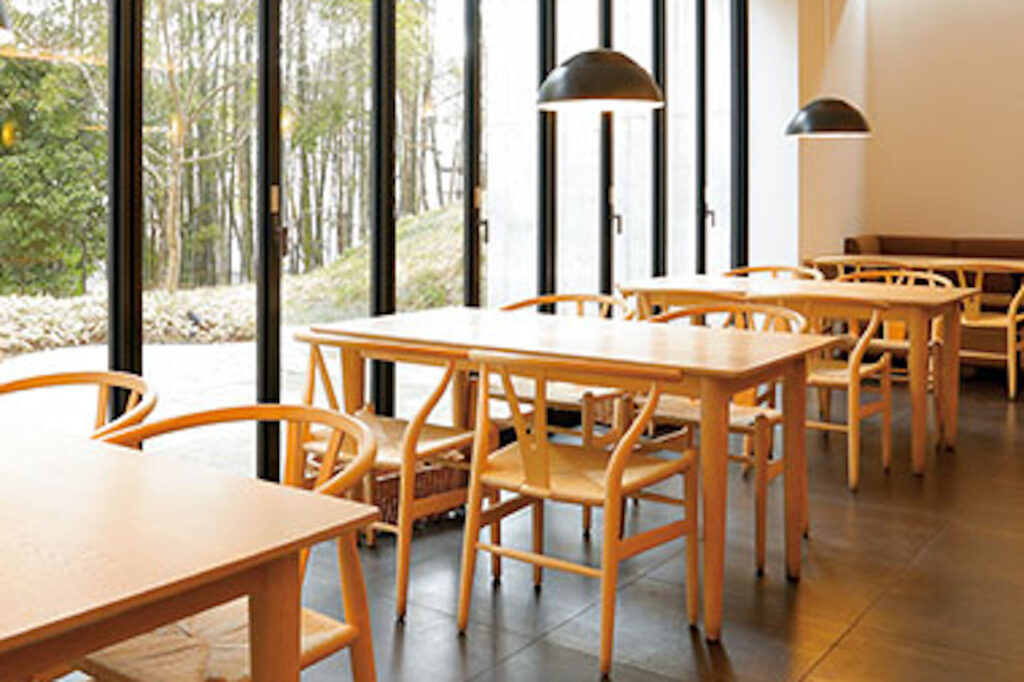 Karyo Itoken
Karyo Itoken
28-1 Fukakusa Taniguchicho, Fushimi Ward, Kyoto City, Kyoto Prefecture
13 min. walk from JR Fujimori Sta.
1 minute walk from Fukakusa-Taniguchi-cho bus stop.

Tel.0120-929-110
10:00-18:00
Lunch/11:00-14:30, Cafe/10:00-11:00, 14:00-18:00 (LO/17:30)
Closed on Wednesdays
All seats non-smoking Fully private room available Parking lot 1: 19 cars, parking lot 2: 35 cars
2.[Fruit Daifuku (Daifuku with Fruits) from "YOSHINOYA" is made with fresh mandarin oranges / Kitaoji
Since the first year of the Showa Era (1926), this shop has continued to make Japanese confectionaries that depict nature from season to season. The lineup includes "Ikkyu-mochi," a famous confectionary named after the monk Ikkyu of Daitokuji Temple, and "Otogi-zoshi," a collection of cute bite-sized confectionaries. The mikan daifuku, a mikan (mandarin orange) wrapped in a thin white bean paste and gyuhi, becomes popular during the winter months. Take a bite and be careful not to spill the juice. Available only from the end of October to the end of March.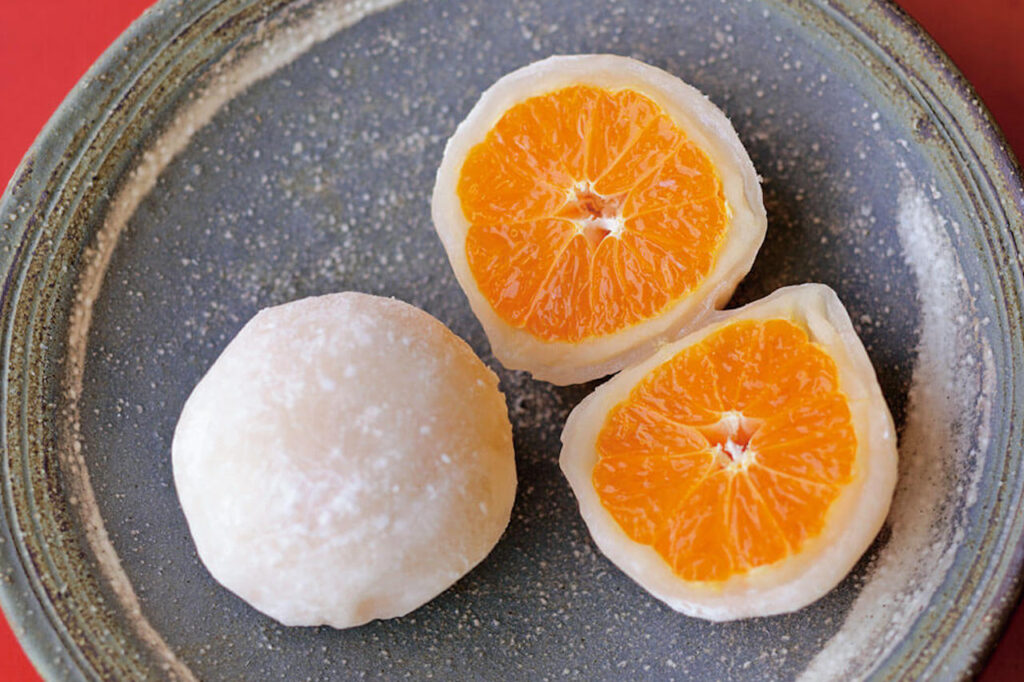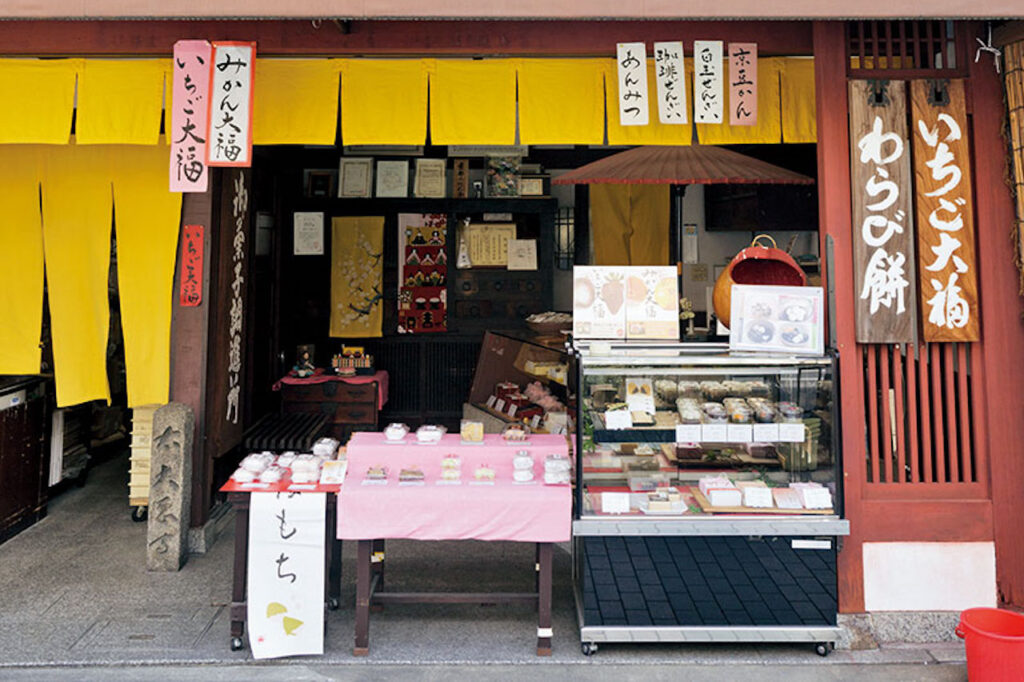 watch out for Yoshinoya
name of a haiku poet's mansion
54, Oyama Higashi Ono-cho, Kita-ku, Kyoto-shi, Kyoto
4 min. walk from Kitaoji Subway Station
Tel. 075-441-5561
9:00-18:00
Irregular holidays
No parking
Eat-in not allowed
3.Unique Daifuku created by artisans at Yoroken / Saiin
This Japanese confectionery has been in business for more than 80 years, offering a number of innovative Japanese confections that meet modern needs. Among Daifuku made with seasonal fruits, the "Strawberry An Cream Cheese Daifuku" made with cream cheese is particularly interesting. The unexpected collaboration of white bean paste filled with fresh strawberries and cream cheese is a gem that can only be found here. It is also notable for its suitability for both Japanese tea and sparkling wine.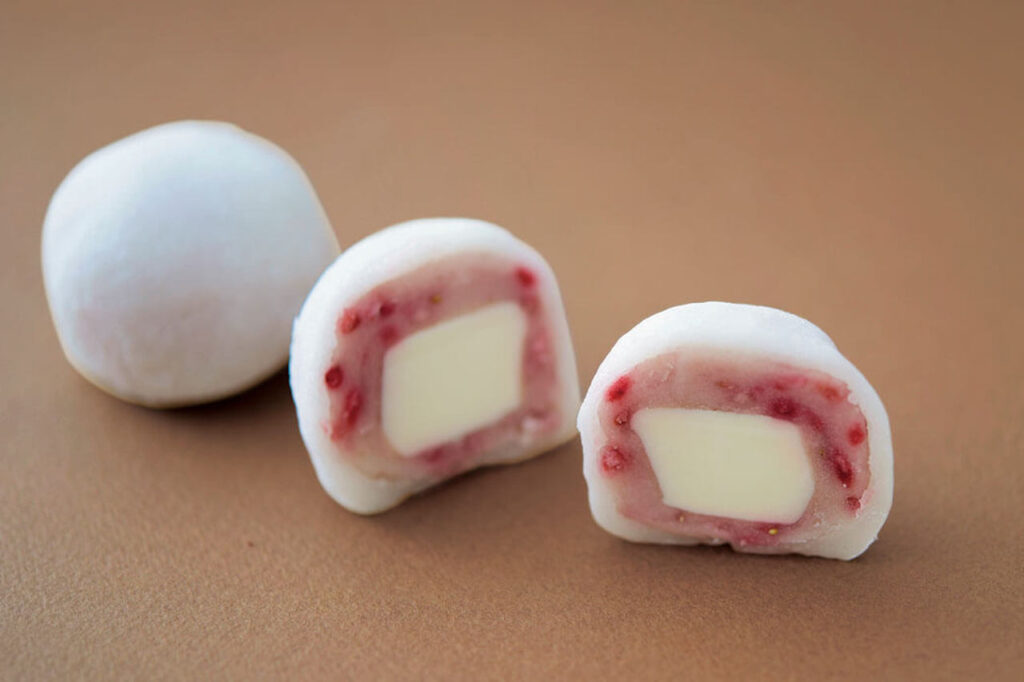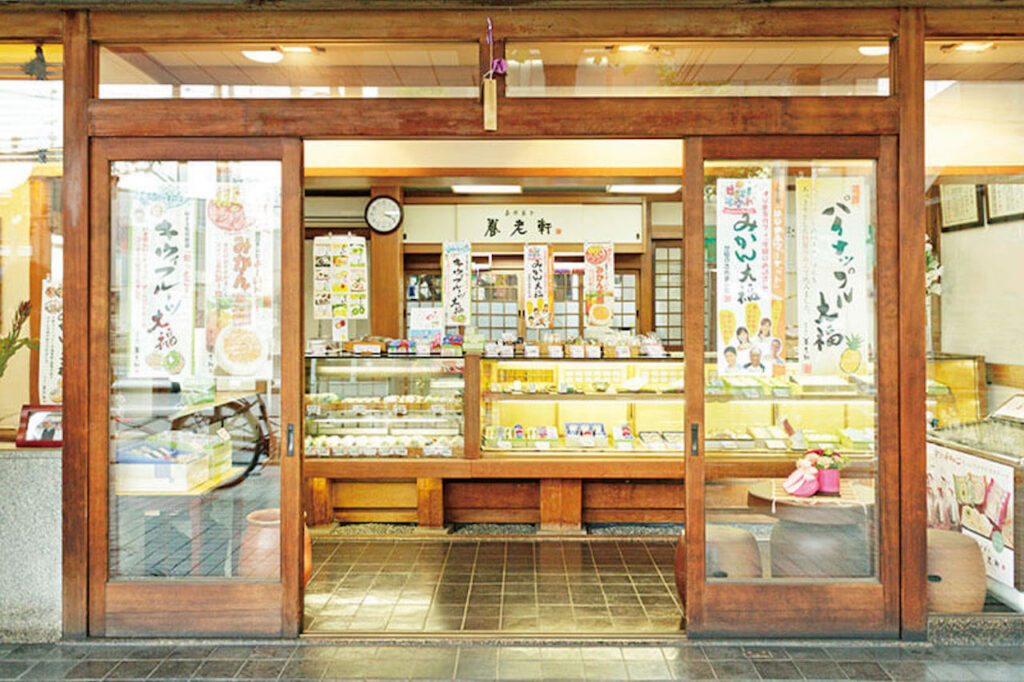 Yourouken
Yoro Ken
21 Mibu-Nishi Doinouchi-cho, Nakagyo-ku, Kyoto City, Kyoto
2 minutes on foot from Hankyu "Saiin Station"
10:00-18:00
Closed on Wednesdays and irregularly closed on Thursdays
No parking
Eat-in not allowed
4.The ever-popular [Wakamatsu]'s famous strawberry daifuku / Kusatsu
Since the time when Daifuku with strawberries was still a rarity, this specialty has remained steadfastly popular. It is made with Amaou (a sweet red-bean paste produced in Itoshima, Fukuoka), which excels in sweetness, aroma, and acidity, and the white bean paste, which is not too sweet and does not disturb the main ingredient, strawberries, and the thin, soft Gyuhi (rice flour), which is a perfect match. Strawberry Daifuku is available only until around May. Other seasonal fruit daifuku are also available, such as mikan daifuku in winter and grape daifuku in fall.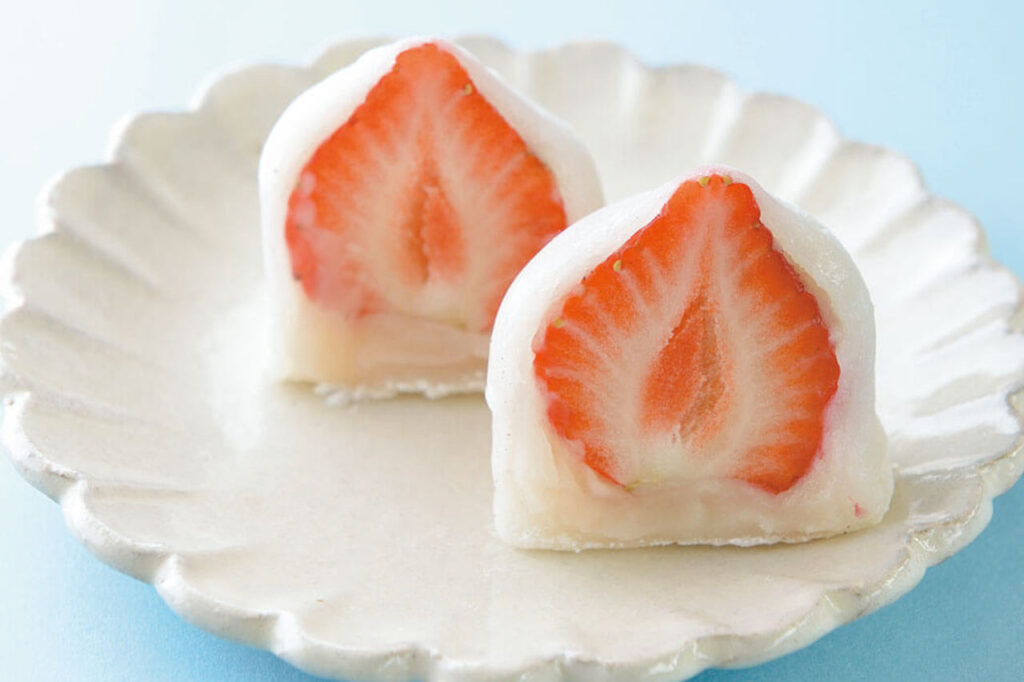 young pine
New Year's symbolic pine decoration
4-30-11 Kamikasa, Kusatsu City, Shiga Prefecture
2 minutes walk from Kamikasa 4-chome bus stop.
Tel. 077-564-6746
8:30-19:00
Closed on Tuesdays
1 parking lot
Eat-in not allowed
*Please note that the information contained herein is subject to change without notice.
*Since this site uses automatic translation, the translation may differ from the original Japanese content.

Over 600 interviews per year! An order site carefully selected by the editors who knows Kyoto and Shiga.
nowOfficial LINE friend registration500 yen OFF coupon is being issued!
News
Feature article
Featured event