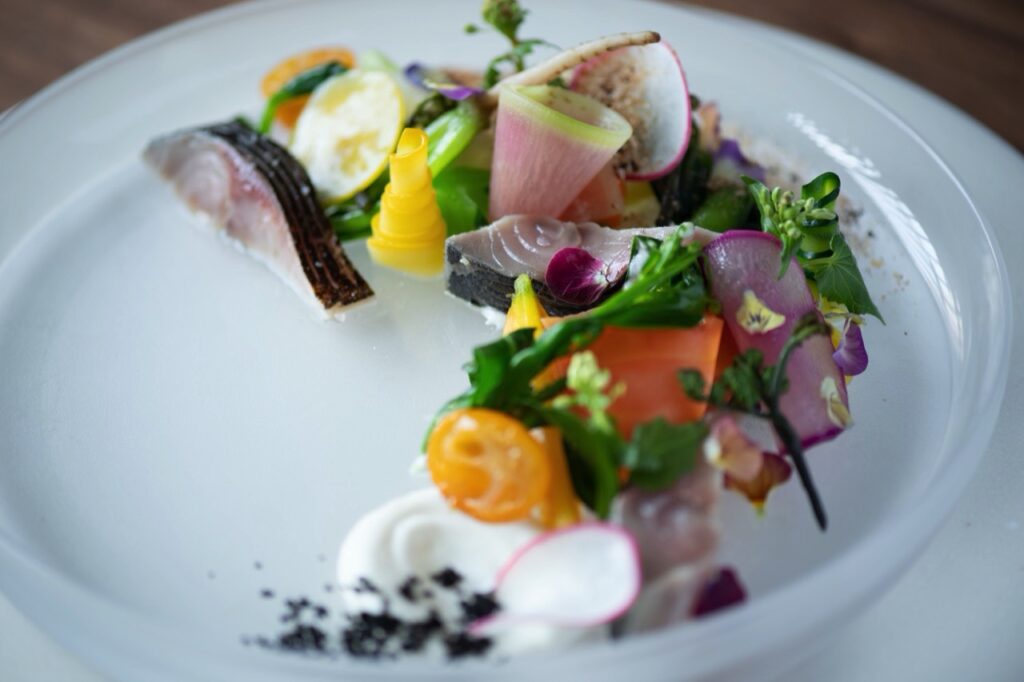 Enjoy seasonal French cuisine at Luca in Shijo Kawaramachi
March 14, 2022 open

The theme color of this space, with its high ceilings that you cannot imagine until you open the door, is an elegant gray. The light color tone invites you to forget your hectic daily life and just enjoy the bliss of the food in front of you.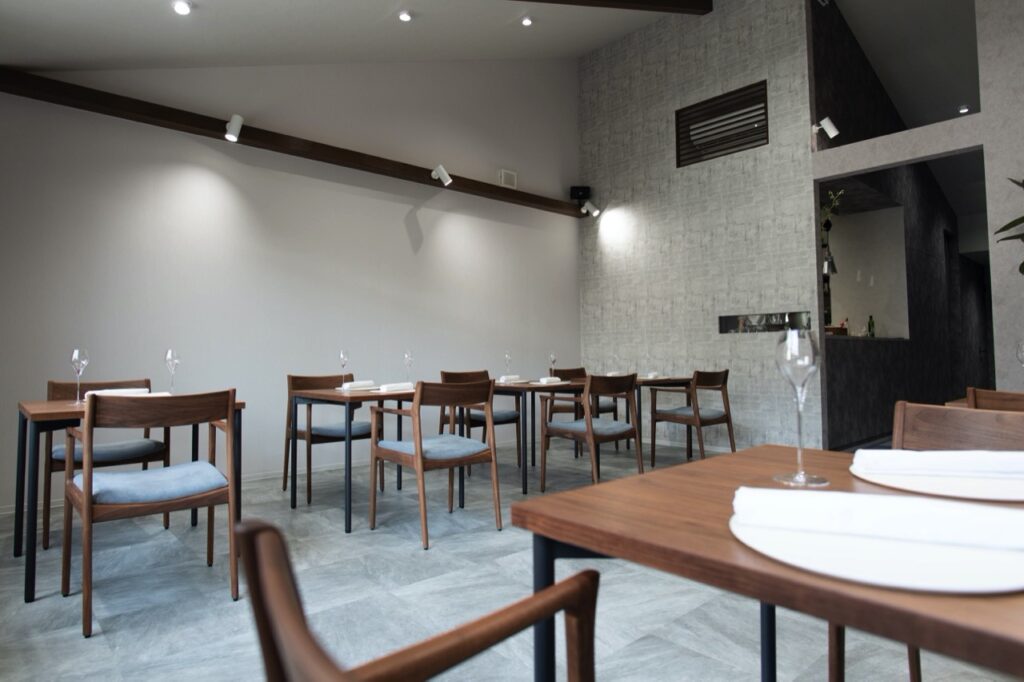 Luca means "that which brings light. The stagnation of my work at Corona Disaster has made me rediscover the joy of being in touch with materials. We can bring light not only to our customers but also to the restaurant industry. I want to make it such a restaurant," says Chef Kuwahara with a beaming smile.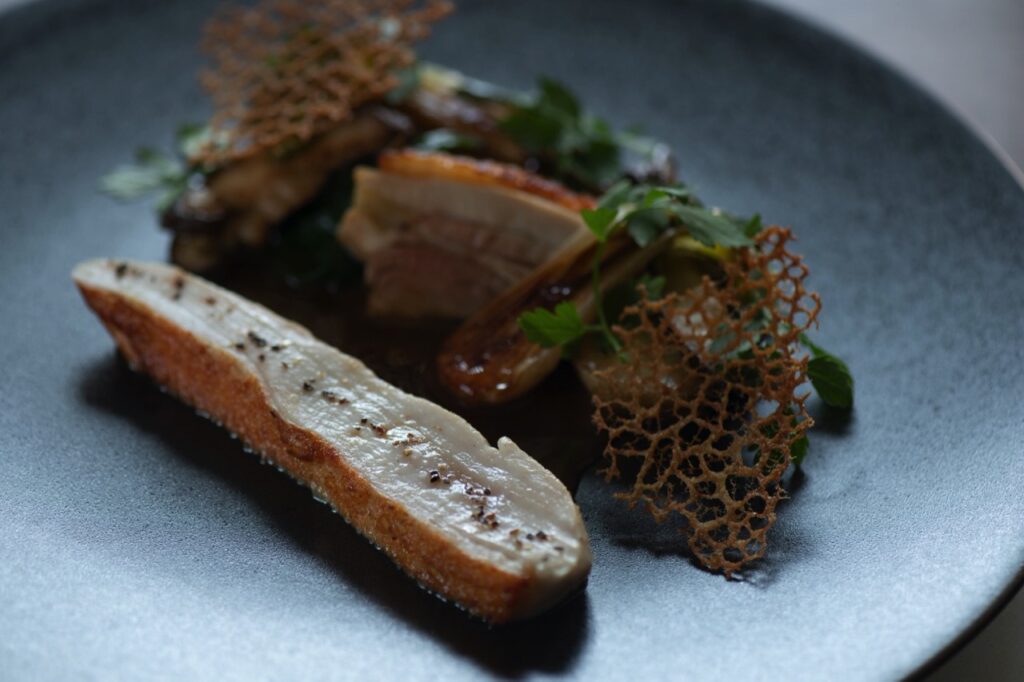 The table plate ordered from "Tokinoha," a brand of kyoyaki and Kiyomizu-yaki pottery, features Nanaya red chicken from Kameoka, vegetables from Ohara and Fushimi, and more. He says that he wants to visit the places he visits, listen to the people who make the food, and use what he learns from their experiences in his cooking.
I realize that I can find better ingredients by finding time to move around more often. Especially with vegetables, the season changes rapidly, so I often have to decide how to cook and serve the ingredients as I hold them in my hands.
True to his word, the visuals of the dishes are as free and light as improvised art.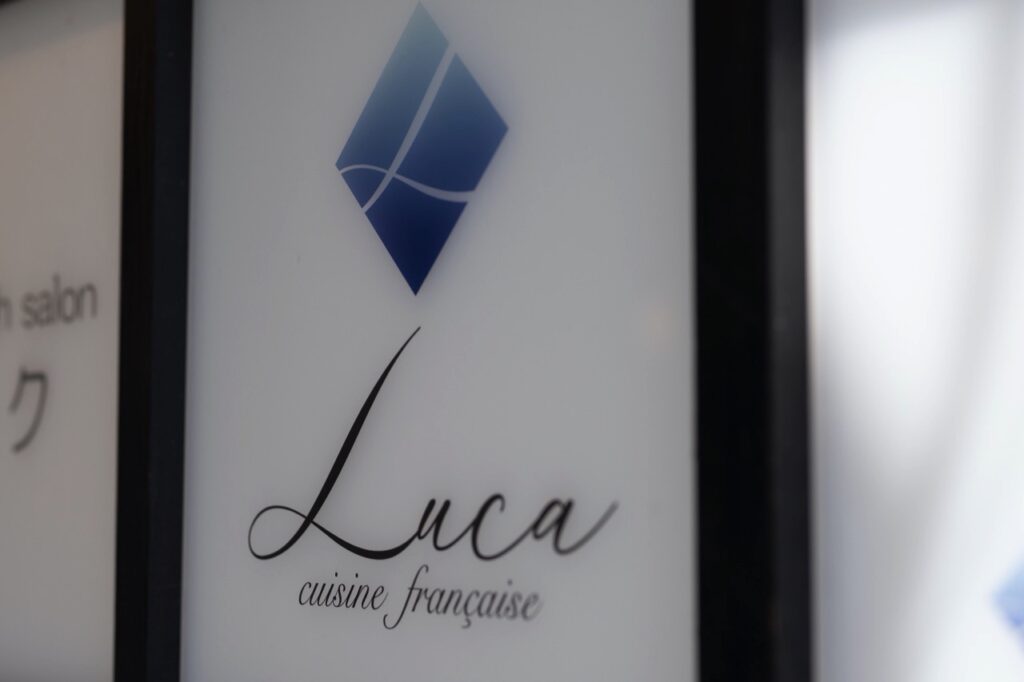 The lunch course is 7,200 yen for 7 dishes, and the evening course is 13,400 yen for 9 dishes. This restaurant will be useful for reunions after a long absence and celebrations with loved ones.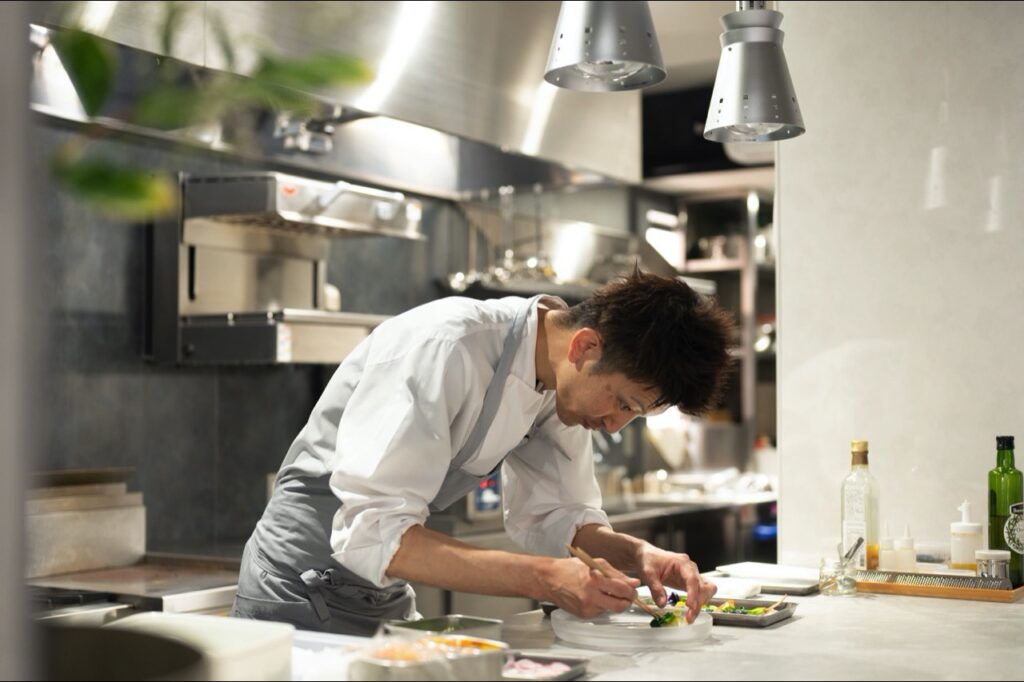 Owner Takuya Kuwahara
He is a talented chef with experience at famous restaurants such as Les Chandres in Kyoto, Pitresque at Hotel Okura Kyoto, Lambery Kyoto, and a two-star restaurant in France.
Luca
Luke.

March 14, 2022 open

2F Wakaba Building, 585 Takamiya-cho, Takoyakushi-sagaru, Tominokoji-dori, Nakagyo-ku, Kyoto-shi, Kyoto

4 minutes walk from Hankyu "Kyoto Kawaramachi Station"

Tel. 075-744-0981

12:00 - 15:00 (Entry/13:00)
18:00-22:00 (Entry/ 20:00)

Irregular holidays

All seats non-smoking No private room No parking

*Please note that the information contained herein is subject to change without notice.
*Since this site uses automatic translation, the translation may differ from the original Japanese content.

Over 600 interviews per year! An order site carefully selected by the editors who knows Kyoto and Shiga.
nowOfficial LINE friend registration500 yen OFF coupon is being issued!
News
Feature article
Featured event